Our facility includes 14 bedrooms furnished for double occupancy (single beds that can be moved to form a double) with either a private or semi-private bath. The entire facility is air conditioned or heated as needed.  Suggested donation for the night is $60.00 per double occupancy and/or $40.00 single. Additional lodging facilities are available if needed. A non-refundable $150 is required to hold your reservation.  Rooms are furnished with linens and towels.  You provide your own toiletries.There is a dining/meeting room and Chapel, each accommodating 78 people.
There is a commercial kitchen, furnished with all appliances, dishes and cooking utensils available for a $250 donation, if you wish to supply your own cook and purchase supplies. We request that groups larger than 6 rent the commercial kitchen.
With prior arrangement meals can be provided for groups larger than 10 people. The cost is $12.00/person/per meal, with a minimum of 3 meals per registered group members. Generally, we provide a light supper the night of your arrival (Fri), 3 meals on Saturday and breakfast and lunch on Sunday for a total of 6 meals.   Meals can be adjusted to fit the needs of each group.  To discuss menu options please contact us for more information.
Reserve
Checks, cash and Charge Cards accepted.  If you are interested in RESERVING our facility, please call 479-253-7379 or email
Reminder
If you are coming early or staying late for a scheduled retreat, please keep in mind that others may be doing the same to enjoy the silence and reflect.  Please also share the small kitchen.  Coolers may be kept in your room.
Here are some of the upcoming group retreat you can take part or you might want to schedule one for your group.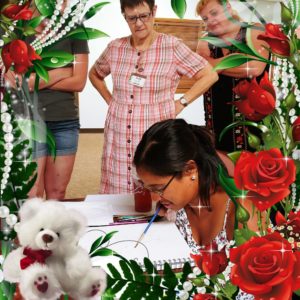 With Minda Cox and Fr. Jos Tharakan
November 29 - December 1, 2019
House Of Blessings Retreat Center
I'm Possible is a spiritual empowerment and watercolor painting retreat/workshop facilitated by one of the most beautiful people you will ever meet in your life. Minda Cox. Minda is a differently-abled person than "disabled". Without arms or legs, Minda has accomplished much more than many who are "abled" and well. With her two books, watercolor paintings, reflections in the Forward Day By Day national network, other works of art and literature, Minda has proven to the world that life is worth living and possible regardless of where we are. Every time I have been with this young woman for a…