6 Days Centering Prayer Retreat: Deepening The Practice Of Centering Prayer
With Fr. Jos Tharakan
May 5 - 11, 2019
I have calmed and quieted my soul. Like a child weaned on its mother's breast, so is my soul. – Psalm 131
Deepening The Practice Of Centering Prayer and Calming The Center Of Our Soul
Fr. Thomas Keating describes Centering Prayer as the keystone of a comprehensive commitment to Scriptural Spirituality, manifesting as a deepening union with Christ, and practical caring for others.  This way of praying in silence opens our hearts and minds to consent to God's presence and action within, beyond words, responding to the call of the Holy Spirit.
In this particular retreat, we will learn how to deepen our Centering Prayer practice. "The deeper our prayer actually is, the more it habitually drops out of our ordinary awareness." (Fr. Keating). The subtle experiences of prayer is a process of deepening our journey in prayer. While spiritual experiences give us emotional and spiritual consolations, the gentle experience of Centering Prayer will help deepen our resting in God experience. It is deeper than the experience of the senses. Come therefore to learn what deepening of Centering Prayer would look like.
This silent retreat will include more periods of Centering to delve deeper into the of resting in God.
Leader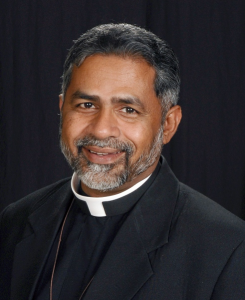 Fr. Jos Tharakan
Fr. Jos is a priest and a teacher. He practices Franciscan Spirituality that welcomes everyone and respects and supports the dignity of all people. He has lead retreats all over the world for over 32 years and practiced Contemplative Prayer for over 35 years. He is commissioned by Contemplative Outreach as a Centering Prayer Presenter. Fr. Jos currently serves as Rector of St. James Episcopal Church in Springfield and serves also as the President of the House Of Blessings. You can read more about Fr. Jos and his works on his website.
Learn more about Fr. Jos Tharakan