Daily Bible Study Podcast
With Fr. Jos Tharakan
Open Dates
What is Daily Bible Study? Daily Bible Study Podcast is a simple, easy to understand and practice study of the Word Of God. This podcast will give you a way to enter into the life of Jesus from the comfort of your home.
How to Access the study? You can access this study on your smartphone or tablet. You can also access the same class on your computer and even if connected on your TV. For a simply donation of $2 a month you will get a daily study verse of one verse at a time. Well referenced and spiritually beneficial to anyone who is interested in making studying the word a daily practice.
HOBs Institute: You can also get the same in a video format and several other courses bundled together for a monthly subscription of $6. You can check that out at the HOBs Institute. 
Leader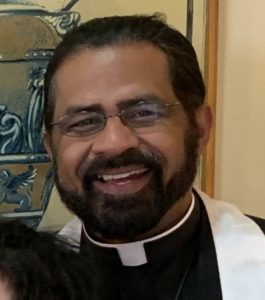 Fr. Jos Tharakan
Fr. Jos is a priest and a teacher. He practices Franciscan Spirituality that welcomes everyone and respects and supports the dignity of all people. He has lead retreats all over the world for over 32 years and practiced Contemplative Prayer for over 35 years. He is commissioned by Contemplative Outreach as a Centering Prayer Presenter. Fr. Jos currently serves as Rector of St. James Episcopal Church in Springfield and serves also as the President of the House Of Blessings. You can read more about Fr. Jos and his works on his website.
Learn more about Fr. Jos Tharakan