6th Enneagram and Centering Prayer Workshop
With Fr. Jos Tharakan
October 19, 2020
Knowing who we are, our personality and our perspectives is the wisdom of Solomon. When we know who we are, then we will know what to do in our spiritual life. What we do in Spiritual life is simply be. Because we are all motivated by different things in life. That is why we have a hard time to understand another. Many times we don't even understand ourselves let alone others. Even when we know the nearest and dearest we will don't know who they are.
This online webinar is a quick look into the Enneagrammic person in us. When we know what motivates us we will then know what to do next. When we know what inspires us, then it will be easier for us to pray and play. When we pray well, we will play well, meaning, we will do whatever we do for living joyfully.
Set aside one day and take this program from the comfort of your home. Each session is 20 minutes long with a 10 minutes break in between. You can interact with Fr. Jos while you are attending just like being in a classroom. You don't need to download anything or call anyone. Just simply be home in your PJs and have a cup of coffee and relax, learn, and grow.
Leader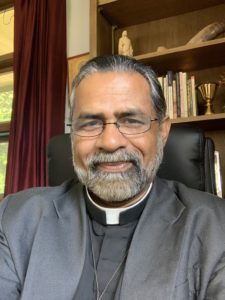 Fr. Jos Tharakan
Fr. Jos is a priest and a teacher. He practices Franciscan Spirituality that welcomes everyone and respects and supports the dignity of all people. He has lead retreats all over the world for over 32 years and practiced Contemplative Prayer for over 35 years. He is commissioned by Contemplative Outreach as a Centering Prayer Presenter. Fr. Jos currently serves as Rector of St. James Episcopal Church in Springfield and serves also as the President of the House Of Blessings. You can read more about Fr. Jos and his works on his website.
Learn more about Fr. Jos Tharakan