Welcoming Prayer Intensive Retreat
With Fr. Jos Tharakan
November 8 - 14, 2020
Take your contemplative prayer practice into daily living by focusing on The Welcoming Prayer. In Welcoming Prayer you will learn to integrate the inner busy life of Martha and the relaxed attitude of Mary, the followers of Jesus, into your own lives to become modern contemplatives in action.
We live in a world that is fragmented by sickness, fear, anxieties of all kinds but we are called to trust the Lord in the midst of it all. This retreat is meant to ground us in Christ. It is to help us be intentional in what we do so that we can be at peace within ourselves.
Fr. Jos will host this retreat at the House Of Blessings in Eureka Springs, AR, a beautiful place in the Boston Mountains of Arkansas. Eureka Springs is known for its natural beauty, quiet and uplifting spirit, and deep spirituality. The registration is limited to 12 people. With private rooms, spacious chapel, open areas, and mountain air, House Of Blessing is the safest place to be at this time. The retreat fee of $550 includes everything you will need other than your own toiletries.
The schedule includes Daily Mass, several prayer sessions each day, two daily study times, and time for rest, renewal, and reading. Each day is well designed to give you time to rest and renew your soul.
Date and Time: November 8th, 4 pm through 14th, 11 am.
Retreat Fee: $550. Includes accommodation, all linens, towels, all meals, snacks, drinks, and conferences. Bring your own toiletries.
COVID19 Recommendations: Be symptom-free when you come. Please bring some masks just in case you leave the retreat center for something. (for emergency only) Sanitizing lotions will be provided at the retreat for generous use. As a closed group, your health is our priority.
Leader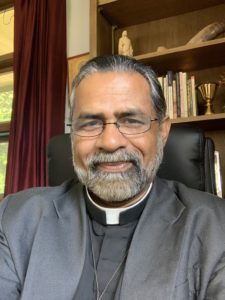 Fr. Jos Tharakan
Fr. Jos is a priest and a teacher. He practices Franciscan Spirituality that welcomes everyone and respects and supports the dignity of all people. He has lead retreats all over the world for over 32 years and practiced Contemplative Prayer for over 35 years. He is commissioned by Contemplative Outreach as a Centering Prayer Presenter. Fr. Jos currently serves as Rector of St. James Episcopal Church in Springfield and serves also as the President of the House Of Blessings. You can read more about Fr. Jos and his works on his website.
Learn more about Fr. Jos Tharakan